Sicily for Solo Travelers
8 days |  11 days with Rome extension
Group size15–28 travelers
Fully Refundable Booking Period
Feel good about booking your tour today. Enroll in AutoPay or pay in full when you book and if you change your mind, you have 60 days to receive a full refund of your payment.
Set out with solo travelers to discover Sicily.
Whether you're visiting Sicily for the history or the cuisine, the island has a rustic charm that sets it apart from mainland Italy. Experience the inimitable culture of the Mediterranean destination on this guided tour created for solo travelers. Along the way, meet like-minded travelers who also want to eat all the arancini their hearts desire (or their stomachs can handle).
Your tour package includes
6 nights in a private room at handpicked hotels
6 breakfasts
1 lunch
3 dinners with beer or wine
1 cooking class
Included highlights
Cappella Palatina
Monreale Cathedral
Piazza Armerina
Island of Ortygia
Syracuse Cathedral
Start planning today
An expert specializing in tours of this region is here to help.
Book with peace of mind
We make it easy with down payments as low as $99, fee-free booking, and more
Reviews
4.8 star rating
Overall rating 4.8 out of 5
Based on 10 authentic traveler reviews
It was a fabulous vacation in Sicily
09/04/22 by 1st-time traveler Anne
Our tour guide was wonderful and I met some amazing people.
Sicily & Rome: My 7th Go Ahead Tours Adventure
09/04/22 by 7th-time traveler Janee
The best parts of this tour: Syracuse is quaint, clean and picturesque, full of outdoor cafes and friendly people! Taormina is full of charm, great food, and is easy to navigate. It's climate was also fantastic in comparison to Palermo and Syracuse, which were both incredibly humid. I took advantage...
Great trip, just double check your flight schedule
09/04/22 by 1st-time traveler Michele
The trip to Sicily was AMAZING. Adding the extension to Rome was the best idea ever. Our tour director was amazing and so helpful. My only complaint would be the flight home, after the 13 hour international flight home I had to wait an additional 8 hours before I could get on my final flight ...
Traveler photos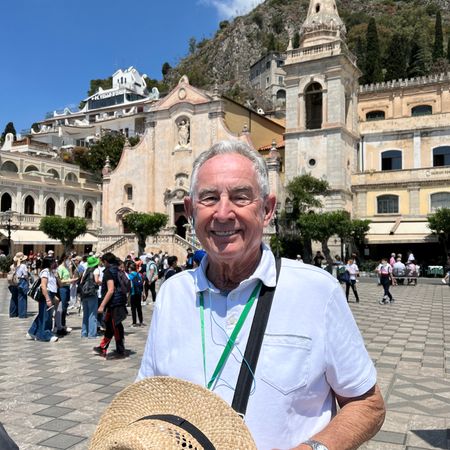 Hotels, flights & FAQ
Here's the nitty-gritty—where you'll stay, how you'll get there, and what to know about your destination before you go.
Hotels
We handpick every hotel to strike the balance of comfort, location, and local charm. Specific accommodations will vary based on your departure date, but these are frequently used hotels for this tour and we're confident you'll be satisfied.
Hotel Mercure Palermo Centro
This modern hotel is located in the Palermo city center. Guests enjoy free Wi-Fi, a bar, and a spacious lobby. Nearby, you'll find Teatro Politeama, T...
Grand Hotel Villa Politi
This grand hotel is located near the historic archeological zone. Guests enjoy a restaurant, bar, and spa. Nearby, you'll find the Greek Theater of Sy...
Excelsior Palace Hotel Taormina
This historic hotel is located in the city center. Guests enjoy an outdoor swimming pool, sun deck, and restaurant. Nearby, you'll find Corso Umberto,...
Hotel Massimo D'Azeglio
This historic hotel is located in central Rome. Guests enjoy a restaurant, bar and lounge, and fitness area. Nearby, you'll find the train station, Te...
Flights
Round-trip flights are one more thing we handle to make your journey as smooth as possible. Our team of travel experts will find the best flight itinerary for you at a competitive rate, thanks to our partnerships with top airlines.
Add our airfare package and you'll get:
Round-trip flight for your tour
Airport transfers at your destination
A great price locked in today
24/7 support from our dedicated service team
Options for arriving early, staying longer, or requesting an upgrade
Flexible rebooking options if your tour itinerary changes
Local weather
Rome, Italy
Weather averages
Syracuse, Italy
Weather averages
Taormina, Italy
Weather averages
Palermo, Italy
Weather averages
FAQ
Print FAQ
Passport, visa & entry requirements
Transportation & arrival information
Electricity & air conditioning
Purchasing excursions on tour