Paris & Rome
with Athens extension
Duration:

8 or 11 days

Group size:

15-38

Reviews:

106
Get to know two worldwide capitals of culture at your own pace.
For centuries, world-class artists and intellectuals have flocked to Paris and Rome, leaving behind lasting impressions. Now it's your turn to make your mark on each city, exploring the ins and outs of both with Parisian and Roman locals leading the way. And with plenty of time to yourself, you'll be free to discover your own niche within these two European hubs.
Your tour package includes
6 nights in handpicked hotels
6 breakfasts
2 dinners with beer or wine
2 guided sightseeing tours
Expert Tour Director & local guides
Included highlights
Eiffel Tower photo stop
Place de la Concorde
Arc de Triomphe
Colosseum
Roman Forum
Get unbeatable value
With price matching, risk-free booking,
interest-free payments, and more
Read details
Choose your dates to start a quote
Reviews
Our reviews are authentic and unedited.
Wonderful
08/26/2019
by 2nd time traveler 
Rylie E.
Originally we had signed up to do the extension to Athens as well, but because not enough people wanted to go it was canceled. The customer service team, especially Sarah, was extremely helpful in laying out our various options whether we wanted a full refund or if we wanted to plan the extension ou...
Absolutely Perfect!
08/08/2019
by 2nd time traveler 
Jessica C.
Linda was our tour director and was awesome!!! We booked the vacation with the intention of doing much of it on our own however, everything was so well organized and the small group made it much easier to do as a group and we still explored and did a lot on our own. I would recommend it to anyone.
Paris & Rome with the Athens extension
07/30/2019
by 2nd time traveler 
Isla R.
Our tour director Oda was excellent. She goes above and beyond. She loves her job and is very good at it. Enjoyed meeting her This was our first experience with a tour of this kind. As far as tours go, it was very organized and ran smoothly, it was just too fast paced for us. We came home ex...
07/29/2019
by 2nd time traveler 
Annie G.
The food, the friends we made the entire experience was wonderful. Oda our tour Director took a personal interest in making certain what we wanted we had!
Fantastic!
06/10/2019
by 2nd time traveler 
Regina K.
This trip was a great combination of structure and free time. I was more able to enjoy my trip because I wasn't worried about travel logistics. All our local guides were great and our tour director Antonio was phenomenal! 10/10 would recommend and can't wait to book another trip!
Hotels, flights & FAQ
Here's the nitty-gritty—where you'll stay, how you'll get there, and what to know about your destination before you go.
Hotels
We handpick every hotel to strike the balance of comfort, location, and local charm. Specific accommodations will vary based on your departure date, but these are frequently used hotels for this tour and we're confident you'll be satisfied.
Best Western Premier Hotel Royal Santina
This modern hotel is located in near Termini station. Guests enjoy free WiFi, a minibar, and laundry center. Nearby, you'll find Museo Nazionale Roman...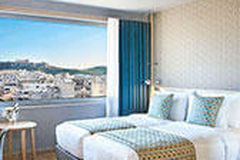 Wyndham Hotel
This modern hotel is located in the Karaiskaki Square neighborhood. Guests enjoy a restaurant, a rooftop bar, and an outdoor pool. Nearby, you'll find...
Mercure Montmartre
This contemporary hotel is located in Montmartre. Guests enjoy on-site dining options, an outdoor terrace, and free Wi-Fi. Nearby, you'll find Sacré-C...
Flights
Round-trip flights are one more thing we handle to make your journey as smooth as possible. Our team of travel experts will find the best flight itinerary for you at a competitive rate, thanks to our partnerships with top airlines.
Add our airfare package and you'll get:
Round-trip flight for your tour
Airport transfers at your destination
A great price locked in today
24/7 support from our dedicated service team
Options for arriving early, staying longer, or requesting an upgrade
Flexible rebooking options if your tour itinerary changes
Local weather
Athens, Greece
Weather averages
Paris, France
Weather averages
Rome, Italy
Weather averages
FAQ
Print FAQ
Passport & visa requirements
Transportation & arrival information
Electricity & air conditioning
Purchasing excursions on tour
Choose your dates to start a quote