You have 60 days to get a full refund
Feel good about putting a tour on the calendar today. Enroll in AutoPay or pay in full when you book and if you change your mind, you'll get your money back.†
Treat your tastebuds to some of the world's best food and wine.
Miles of coastline offering instant access to fresh, succulent seafood. Rural farms where cheesemaking is a sacred, time-honored tradition. Rolling vineyards where crisp, sparkling whites and velvety, full-bodied reds are born. This is Northern Spain, a paradise for travelers in search of the world's best food and wine. On this tour designed in partnership with America's Test Kitchen, you'll find exactly that, and more. Spend your days exploring bustling food markets alongside local guides, learning the art of Spanish cooking under the watchful eye of esteemed Spanish chefs, and savoring artful dishes dreamed up by the culinary world's most imaginative minds.
Your tour package includes
10 nights in handpicked hotels
10 breakfasts
6 lunches with beer or wine
3 dinners with beer or wine
3 wine tastings
Included highlights
La Sagrada Família
San Antoni neighborhood
Spanish vermouth tasting
Logroño tapas tour
Cava and Rioja wine tastings
Start planning today
An expert specializing in tours of this region is here to help.
Book for just $99 down
That's all it takes to secure your spot on tour with AutoPay. Then, pay for your trip in interest-free, monthly installments.†
Reviews
4.4 star rating
Overall rating 4.4 out of 5
Based on 8 authentic traveler reviews
5/5/23 by 1st-time traveler Bob
Great people and food
4/21/23 by 4th-time traveler Victoria
This was an intimate tour with a very special group of interesting, knowledgeable and truly funny people. I enjoyed the whole experience. Best Ef tour yet!! I wish America's test kitchen would have sent a person just 1 day or recipes or some tangible involvement. Our tour guide was superb and adde...
Totally enjoyed
4/21/23 by 1st-time traveler Anonymous
Our tour guide, Leonor, was the kindest, funniest, most knowledgeable, and all around amazing person. She helped make this trip enjoyable. Fellow travelers were all lovely people, who were easy to be around. Accommodations were very good — clean and safe hotels that offered good customer service and...
EF Go Ahead Tours replied on 5/19/23
Thank you for your review! We are so sorry to hear...
Traveler photos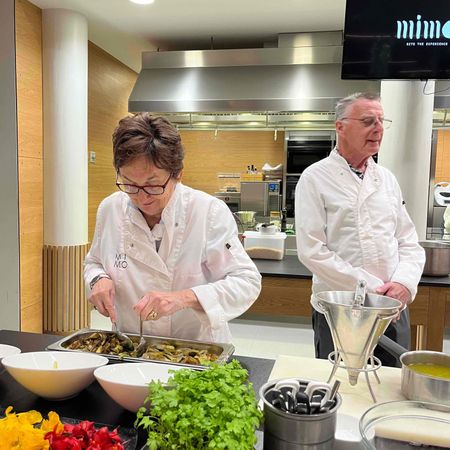 Hotels, flights & FAQ
Here's the nitty-gritty—where you'll stay, how you'll get there, and what to know about your destination before you go.
Hotels
We handpick every hotel to strike the balance of comfort, location, and local charm. Specific accommodations will vary based on your departure date, but these are frequently used hotels for this tour and we're confident you'll be satisfied.
H10 Marina Barcelona
This seaside hotel is located in the El Poblenou neighborhood of Barcelona. Guests enjoy the rooftop pool, spa, and fitness center. Nearby you'll find...
Eurostars Los Agustinos
This charming hotel is located in the town of Haro in La Rioja region. Guests enjoy comfortable rooms, an on-site restaurant featuring traditional Rio...
Hotel Catalonia Donosti
This chic hotel is located in the Donosti neighborhood of San Sebastián. Guests enjoy the rooftop pool and terrace, fitness center, and spa. Nearby yo...
Hotel Mayorazgo
This chic hotel is located a short walk away from Madrid's Plaza España. Guests enjoy individually styled rooms, an outdoor terrace, and on-site coffe...
Flights
Round-trip flights are one more thing we handle to make your journey as smooth as possible. Our team of travel experts will find the best flight itinerary for you at a competitive rate, thanks to our partnerships with top airlines.
Add our airfare package and you'll get:
Round-trip flight for your tour
Airport transfers at your destination
A great price locked in today
24/7 support from our dedicated service team
Options for arriving early, staying longer, or requesting an upgrade
Flexible rebooking options if your tour itinerary changes
FAQ
Print FAQ
Passport, visa & entry requirements
Transportation & arrival information
Electricity & air conditioning
Purchasing excursions on tour