Athens & Ancient Greece
with Santorini & Athens extension
When are you looking to travel?
This tour itinerary varies by year.
Duration:

13 or 17 days

Group size:

15-38

Reviews:

121
Explore the places that shaped Western civilization as we know it.
Between the Mediterranean beaches bathed in sunlight, ancient ruins teeming with legends, and villas bursting with local charm, falling in love with Greece is a sure thing. Discover the heart of Europe's oldest city, from the Acropolis to the Plaka. Island-hop along the Ionian to shorelines steeped in mythology.
Your tour package includes
11 nights in handpicked hotels
11 breakfasts
5 dinners with beer or wine
1 wine tasting
7 guided sightseeing tours
Included highlights
Acropolis
Parthenon
Temple of Apollo
Meteora Monasteries
Corfu's Old Town
Get unbeatable value
With price matching, risk-free booking,
interest-free payments, and more
Read details
Reviews
Our reviews are authentic and unedited.
Steps
06/25/2019
by 4th time traveler 
Anonymous
Greece is a beautiful country with great history. I think rather than the 2 hour walking description, an additional caution should be made regarding the large number of steps and difficult walking conditions. I enjoyed seeing the variety of the country but there is a large quantity of time spent t...
Go Ahead Tours replied on 06/25/2019
Dear Traveler, Our Tour Director and Local Special...
06/24/2019
by 4th time traveler 
Lana R.
This was my third trip with Go Ahead tours. Everything about these tours was excellent. I will be going on my fourth tour in 2020. S
Trip With a pre-teen
06/19/2019
by 2nd time traveler 
Rebecca C.
Our 11 y/o son loves Greek Mythology because of the Percy Jackson book series. We selected this tour based on his interest. Initially, he was worried that he was on the only kid and the next youngest was me (in my 50's). We had so many fun people on our trip that after the first day, age didn't ma...
Beautiful mountains and the bluest water
06/19/2019
by 6th time traveler 
Karen T.
We saw some of the most beautiful scenery i've ever seen. The mountains were spectacular and the water the bluest ever. Our tour director, Raquel, was great. She was knowledgeable, friendly and helpful. We also had the same bus driver for the whole tour, Vasilis, and he was the best, friendly an...
06/11/2019
by 2nd time traveler 
Anonymous
Even though there was a lot of travel time with this tour, we saw so many amazing sites with little stops along the way. The tour gave us so much insight into Greek life and history, and our tour guide was the best! I would change a few things for this tour in the future however to cut down on som...
Hotels, flights & FAQ
Here's the nitty-gritty—where you'll stay, how you'll get there, and what to know about your destination before you go.
Hotels
We handpick every hotel to strike the balance of comfort, location, and local charm. Specific accommodations will vary based on your departure date, but these are frequently used hotels for this tour and we're confident you'll be satisfied.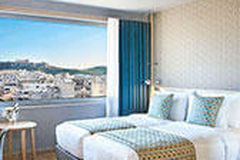 Wyndham Hotel
This modern hotel is located in the Karaiskaki Square neighborhood. Guests enjoy a restaurant, a rooftop bar, and an outdoor pool. Nearby, you'll find...
Amalia Hotel Delphi
This modern hotel is located at the foot of Mount Parnassus. Guests enjoy free WiFi, balconies, and air-conditioning. Nearby, you'll find the Temple o...
Amalia Hotel Kalambaka
This classical hotel is located in Kalambaka. Guests enjoy free wifi, balconies, and a restaurant. Nearby, you'll find Tríkala, Megálou Metéorou, and ...
Corfu Holiday Palace
This seaside hotel is located in Corfu. Guests enjoy an outdoor pool, bowling alley, and spa. Nearby, you'll find the shores of the Ionian Sea, the Vl...
Porto Rio Hotel
This comfortable hotel is located on the Korinthian Bay. Guests enjoy a casino, spa, and free Wi-Fi. Nearby, you'll find the Rio-Antirrio Bridge, Arch...
Amalia Hotel Nauplia
This modern hotel is located in the town entrance of Nafplion. Guests enjoy free WiFi, balconies, and air-conditioning. Nearby, you'll find Árgos, Tir...
Kalisti Hotel & Suites
This beautiful hotel is located in the heart of Fira, the capital of Santorini. Guests enjoy a pool, outdoor bar, and stylish accommodations. Nearby, ...
Flights
Round-trip flights are one more thing we handle to make your journey as smooth as possible. Our team of travel experts will find the best flight itinerary for you at a competitive rate, thanks to our partnerships with top airlines.
Add our airfare package and you'll get:
Round-trip flight for your tour
Airport transfers at your destination
A great price locked in today
24/7 support from our dedicated service team
Options for arriving early, staying longer, or requesting an upgrade
Flexible rebooking options if your tour itinerary changes
Local weather
Athens, Greece
Weather averages
Ioannina, Greece
Weather averages
Nafplio, Greece
Weather averages
Olympia, Greece
Weather averages
Rio, Greece
Weather averages
FAQ
Print FAQ
Passport & visa requirements
Transportation & arrival information
Electricity & air conditioning
Purchasing excursions on tour
More tours you might love