Athens & Ancient Greece
with Crete & Athens extension
Duration:

13 or 16 days

Group size:

15-38

Reviews:

132
Extended risk-free booking
Book today and feel good about your decision. If you change your mind, you'll receive a refund of your deposit through April 30.
See terms
Explore the places that shaped Western civilization as we know it.
Between the Mediterranean beaches bathed in sunlight, ancient ruins teeming with legends, and villas bursting with local charm, falling in love with Greece is a sure thing. Discover the heart of Europe's oldest city, from the Acropolis to the Plaka. Make your way along the Ionian coast to shorelines steeped in mythology.
Your tour package includes
11 nights in handpicked hotels
11 breakfasts
5 dinners with beer or wine
1 wine tasting
7 guided sightseeing tours
Included highlights
Acropolis
Parthenon
Temple of Apollo
Meteora Monasteries
Corfu's Old Town
Get unbeatable value
With price matching, risk-free booking,
interest-free payments, and more
Read details
Reviews
Our reviews are authentic and unedited.
Spectacular Experience
12/16/2019
by 3rd time traveler 
Diana D.
This tour of Ancient Greece & Athens was spectacular! We loved seeing & learning about the ruins & culture of Greece in ancient times. Our tour Director Rob was simply the best. He made every site come alive with his stories & knowledge of Greece & mythology. Our entire group was joyful & enjoyed an...
12/16/2019
by 4th time traveler 
Joyce M.
Kosta was an excellent tour guide!
Greece shines in November!
12/16/2019
by 4th time traveler 
Margaret S.
Despite some occasional rain, the overall experience of exploring ancient Greece was informative and memorable, with daily historical connections to the classics as well as modern-day history. Often members of the tour would google overnight and bring additional pieces to the ongoing appreciation of...
Our Trip to Greece
12/16/2019
by 10th time traveler 
Chris C.
This was a terrific trip for us, we saw so much of Greece that we didn't even know about which is why we travel! The only aspect of the trip that was a bit tough for me was the pace, the number of hotels. We knew what the trip was going to be like, fast paced with some places there for only a shor...
12/16/2019
by 2nd time traveler 
Martha J.
My tour of ancient Greece was delightful. I finally got to see the historical sites I studied years ago in college. Kostas was the perfect tour guide and all of the day guides were excellent. It was a "bucket list trip".
Hotels, flights & FAQ
Here's the nitty-gritty—where you'll stay, how you'll get there, and what to know about your destination before you go.
Hotels
We handpick every hotel to strike the balance of comfort, location, and local charm. Specific accommodations will vary based on your departure date, but these are frequently used hotels for this tour and we're confident you'll be satisfied.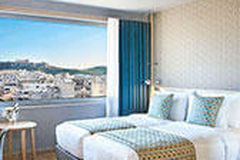 Wyndham Hotel
This modern hotel is located in the Karaiskaki Square neighborhood. Guests enjoy a restaurant, a rooftop bar, and an outdoor pool. Nearby, you'll find...
Amalia Hotel Delphi
This modern hotel is located at the foot of Mount Parnassus. Guests enjoy free WiFi, balconies, and air-conditioning. Nearby, you'll find the Temple o...
Amalia Hotel Kalambaka
This classical hotel is located in Kalambaka. Guests enjoy free wifi, balconies, and a restaurant. Nearby, you'll find Tríkala, Megálou Metéorou, and ...
Corfu Holiday Palace
This seaside hotel is located in Corfu. Guests enjoy an outdoor pool, bowling alley, and spa. Nearby, you'll find the shores of the Ionian Sea, the Vl...
Amalia Hotel Nauplia
This modern hotel is located in the town entrance of Nafplion. Guests enjoy free WiFi, balconies, and air-conditioning. Nearby, you'll find Árgos, Tir...
Achaia Beach Hotel
This modern hotel is located in Patras. Guests enjoy free WiFi, a mini bar, and trouser press. Nearby, you'll find Rion Bridge, mountains, and beaches...
Airotel Stratos Vassilikos
This stylish hotel is located downtown near the Megaro Mousikis metro station. Guests enjoy an on-site restaurant, fitness center, and free Wi-Fi. Nea...
Flights
Round-trip flights are one more thing we handle to make your journey as smooth as possible. Our team of travel experts will find the best flight itinerary for you at a competitive rate, thanks to our partnerships with top airlines.
Add our airfare package and you'll get:
Round-trip flight for your tour
Airport transfers at your destination
A great price locked in today
24/7 support from our dedicated service team
Options for arriving early, staying longer, or requesting an upgrade
Flexible rebooking options if your tour itinerary changes
Local weather
Olympia, Greece
Weather averages
Heraklion, Greece
Weather averages
Ioannina, Greece
Weather averages
Nafplio, Greece
Weather averages
Rio, Greece
Weather averages
Athens, Greece
Weather averages
FAQ
Print FAQ
Passport & visa requirements
Transportation & arrival information
Electricity & air conditioning
Purchasing excursions on tour
Dates & prices
Choose your dates to start a quote
Starts
Ends
Price
Availability
More tours you might love