Fully Refundable Booking Period
Feel good about booking your tour today. Enroll in AutoPay or pay in full when you book and if you change your mind, you have 60 days to receive a full refund of your payment.
Discover the essence of la pura vida lifestyle.
Did you know that 26% of the land in Costa Rica is made up of protected parks, reserves, and preserves? The country's love of and dedication to nature means there is no shortage of monkeys, sloths, and birds to see! Spend one week in Costa Rica spotting all the animals while getting a taste of picture-perfect landscapes, from the misty rainforests of Arenal to the beachy paradise of Guanacaste.
Your tour package includes
7 nights in handpicked hotels
7 breakfasts
2 lunches
3 dinners with beer or wine
1 tasting
Included highlights
Plaza de la Cultura
Coffee farm & tasting
La Paz Waterfall
Arenal Volcano National Park hike
Palo Verde National Park wildlife cruise
Start planning today
An expert specializing in tours of this region is here to help.
Book with peace of mind
We make it easy with down payments as low as $99, fee-free booking, and more
Reviews
Overall rating 3.8 out of 5
Based on 4 authentic and unedited traveler reviews
Costa Rica
12/12/21 by 8th-time traveler Anonymous
I enjoyed the tour of the coffee plantation and its butterfly garden, the excursion to a hot springs spa, and a guided riverboat tour. Our first stay was at a Holiday Inn in San Jose. It was not a comfortable experience. The hotel is rundown and dirty. Our second stop near La Fortuna was very pleasa...
EF Go Ahead Tours replied on 01/05/22
Dear Traveler, We very much appreciate your detai...
fantastic guide but itinerary needs adjustments
11/14/21 by 1st-time traveler Elina
I loved the group, the tour guide, and the country, but 2/7 days were entirely WASTED in San Jose - it was grungy and dirty and had absolutely nothing worth seeing. A real disappointment.
EF Go Ahead Tours replied on 12/30/21
Dear Elina, Thank you for your feedback! We are d...
Needs Tweaking
11/14/21 by 2nd-time traveler Anonymous
This tour needs to chop one day off the San Jose end of things and add it to the Tamarindo end. There is so much to do in Tamarindo and not enough time to do it. San Jose is not that interesting.
EF Go Ahead Tours replied on 12/30/21
Dear Traveler, Thank you for your suggestions, we...
Traveler photos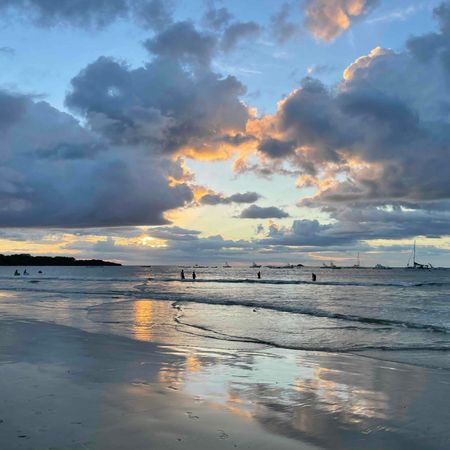 Hotels, flights & FAQ
Here's the nitty-gritty—where you'll stay, how you'll get there, and what to know about your destination before you go.
Hotels
We handpick every hotel to strike the balance of comfort, location, and local charm. Specific accommodations will vary based on your departure date, but these are frequently used hotels for this tour and we're confident you'll be satisfied.
Holiday Inn San José-Aurola
This centrally located hotel is steps away from San José center in Costa Rica. Guests enjoy an indoor swimming pool, fitness center, and casino. Nearb...
Tilajari Hotel Resort
This tropical hotel is located in the lush rainforest of Fortuna. Guests enjoy the surrounding botanical and butterfly gardens, outdoor pools, and gif...
Wyndham Tamarindo
This serene hotel is located perched on a hillside of Tamarindo on the Guanacaste coast. Guests enjoy sweeping ocean views, outdoor infinity pool, a l...
Flights
Round-trip flights are one more thing we handle to make your journey as smooth as possible. Our team of travel experts will find the best flight itinerary for you at a competitive rate, thanks to our partnerships with top airlines.
Add our airfare package and you'll get:
Round-trip flight for your tour
Airport transfers at your destination
A great price locked in today
24/7 support from our dedicated service team
Options for arriving early, staying longer, or requesting an upgrade
Flexible rebooking options if your tour itinerary changes
Local weather
San Jose, Costa Rica
Weather averages
Tamarindo, Costa Rica
Weather averages
La Fortuna, Costa Rica
Weather averages
FAQ
Print FAQ
Transportation & arrival information
Electricity & air conditioning
Purchasing excursions on tour