Fully Refundable Booking Period
Feel good about booking your tour today. Enroll in AutoPay or pay in full when you book and if you change your mind, you'll receive a full refund of your payment through January 1, 2022.
Dive into the culture and seaside beauty of the Canadian Maritimes.
Enjoy rural scenery and rugged coastal landscapes as you journey off the beaten path to discover one of Canada's most storied regions. Uncover immigrant history, fascinating Acadian culture, and the tranquil lifestyles of quaint fishing villages as you get to know Nova Scotia, New Brunswick, and Prince Edward Island. Picturesque sea views, small-town charm, and a colorful past collide on this breathtaking trip.
Your tour package includes
8 nights in handpicked hotels
8 breakfasts
1 lunch
4 dinners with beer or wine
4 sightseeing tours
Included highlights
Halifax Public Gardens
Maple sugar shack visit
Bay of Fundy
Confederation Bridge
Anne of Green Gables Museum
Start planning today
An expert specializing in tours of this region is here to help.
Book with peace of mind
We make it easy with down payments as low as $99, fee-free booking, and more
Reviews
Overall rating 4.5 out of 5
Based on 38 authentic and unedited traveler reviews
Halifax in the Hurricane
09/06/19 by 1st-time traveler Candace
The first day of our trip was blessed with Hurricane Dorian. Our tour director went out of his way to make sure we were safe and comfortable. Each day we completed what we were supposed to and Warrick was always ahead and making arrangements and rearrangements because of power outages. He spent mu...
09/06/19 by 1st-time traveler Connie
I enjoyed the tour. Warwick, our tour Director and Cyril, our bus driver, were awesome. On the first full day of the tour, Nova Scotia was hit by a hurricane. Warwick did an excellent job improvising to make sure that we had places to visit and restaurants to eat at because of power outages. My ...
09/06/19 by 5th-time traveler Andrea
Traveler photos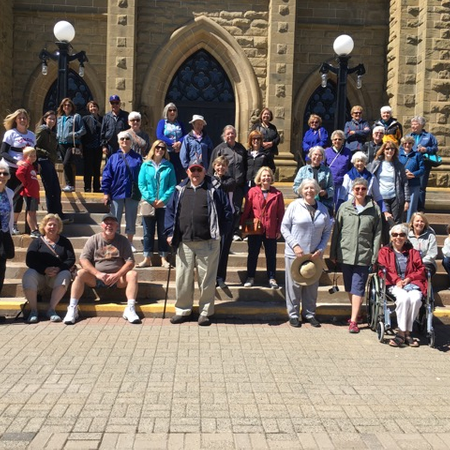 Hotels, flights & FAQ
Here's the nitty-gritty—where you'll stay, how you'll get there, and what to know about your destination before you go.
Hotels
We handpick every hotel to strike the balance of comfort, location, and local charm. Specific accommodations will vary based on your departure date, but these are frequently used hotels for this tour and we're confident you'll be satisfied.
Westin Nova Scotian
This comfortable hotel is located on the waterfront in Halifax. Guests enjoy a fitness center, indoor pool, and spa. Nearby, you'll find the Halifax S...
Amsterdam Inn & Suites
This homey hotel is located in the Moncton neighborhood. Guests enjoy conference and banquet facilities, a morning newspaper, and high-speed WiFi. Nea...
The Hotel on Pownal
This modern hotel is located in downtown Charlottetown on Prince Edward Island. Guests enjoy a fitness center, lounge, and free Wi-Fi. Nearby, you'll ...
Inverary Resort
This cozy hotel is located on Cape Breton Island. Guests enjoy a fitness center, pool, and spa. Nearby, you'll find the property's lake and water acti...
Alt Hotel Halifax Airport
This modern hotel is located in the airport neighborhood. Guests enjoy meeting spaces, a bar, and a pool. Nearby, you'll find Laurie Park, Shubencadie...
JAG Boutique Hotel
This contemporary hotel is located in St. John's. Guests enjoy a fitness center, room service, and a business center. Nearby, you'll find waterfront s...
Flights
Round-trip flights are one more thing we handle to make your journey as smooth as possible. Our team of travel experts will find the best flight itinerary for you at a competitive rate, thanks to our partnerships with top airlines.
Add our airfare package and you'll get:
Round-trip flight for your tour
Airport transfers at your destination
A great price locked in today
24/7 support from our dedicated service team
Options for arriving early, staying longer, or requesting an upgrade
Flexible rebooking options if your tour itinerary changes
Local weather
Halifax, Canada
Weather averages
Lunenburg, Canada
Weather averages
Moncton, Canada
Weather averages
Saint John's, Canada
Weather averages
Charlottetown, Canada
Weather averages
FAQ
Print FAQ
Passport, visa & entry requirements
Electricity & air conditioning
Purchasing excursions on tour