Fully Refundable Booking Period
Feel good about booking your tour today. Enroll in AutoPay or pay in full when you book and if you change your mind, you have 60 days to receive a full refund of your payment.
See iconic landscapes and meet like-minded travelers as you solo travel in the U.S.
Lace up your walking shoes and explore the American Southwest on foot. You'll set off on this group tour made for solo travelers to discover places like Bryce Canyon National Park and Valley of Fire State Park—and find that there's a lot to love in your own backyard. From valley vineyards to scenic hiking trails, this solo trip in the U.S. will show you there's really no place like home.
Your tour package includes
8 nights in a private room at handpicked hotels
8 breakfasts
1 lunch
3 dinners with beer or wine
1 wine tasting
Included highlights
Montezuma Castle National Monument
Verde Valley wine tasting
The Grand Canyon
Lake Powell
Zion National Park
Start planning today
An expert specializing in tours of this region is here to help.
Book with peace of mind
We make it easy with down payments as low as $99, fee-free booking, and more
Reviews
Overall rating 5.0 out of 5
Based on 4 authentic traveler reviews
Great Southwest
04/09/22 by 1st-time traveler Jerry
Topnotch tour guide with Lyn Quigg. Wonderful trip.
Grand Canyon/Bryce/Zion
04/09/22 by 1st-time traveler Susan
The trip was fabulous! Solo tour with 26 others and tour director Lyn Quigg. She made every aspect of the trip smooth and worry free. Lyn is very experienced and so very knowledgeable and just a joy to be around! The sights were amazing and I would definitely travel with Lyn again!
EF Go Ahead Tours replied on 05/13/22
Thank you Susan for this glowing review of your to...
Great Trip
04/09/22 by 1st-time traveler Laura
It was a wonderful trip. Our tour director, Lyn Q, was amazing. She was so knowledgeable and helpful every step of the way. I don't know how she did it. She was always positive and encouraging when I thought I just couldn't take one more step. So glad she pushed me to plod on and experience even ...
EF Go Ahead Tours replied on 05/13/22
Hi Laura, thank you for this thoughtful review of ...
Traveler photos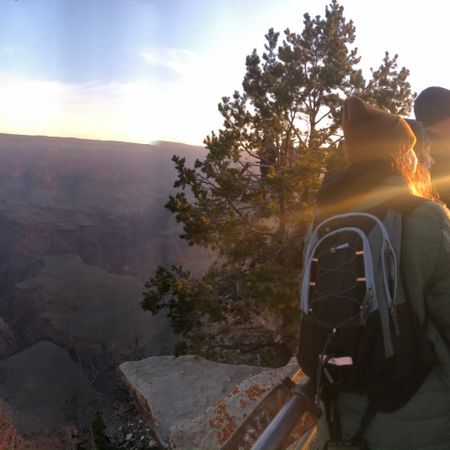 Hotels, flights & FAQ
Here's the nitty-gritty—where you'll stay, how you'll get there, and what to know about your destination before you go.
Hotels
We handpick every hotel to strike the balance of comfort, location, and local charm. Specific accommodations will vary based on your departure date, but these are frequently used hotels for this tour and we're confident you'll be satisfied.
Hampton Inn & Suites Phoenix Downtown
This comfortable hotel is located in downtown Phoenix, Arizona. Guests enjoy free Wi-Fi, a fitness center, and an on-site restaurant. Nearby you'll fi...
Best Western Premier Grand Canyon Squire Inn
This modern lodge hotel is located near The Grand Canyon. Guests enjoy a bowling center, indoor and outdoor pools, billiards, and an arcade. Nearby, y...
Courtyard Page at Lake Powell
This convenient hotel is located in Page overlooking Glen Canyon. Guests enjoy the pool, fitness center, on-site gift shop. Nearby you'll find the Lak...
Holiday Inn Express Springdale - Zion
This rustic, lodge-style hotel is located in Springdale, Utah next to Zion National Park. Guests enjoy a fitness center, pool, and laundry facilities....
DoubleTree by Hilton Hotel Las Vegas Airport
This comfortable hotel is located in Paradise, Nevada. Guests enjoy a fitness center, pool, and free internet access. Nearby, you'll find Sunset Park,...
Flights
Round-trip flights are one more thing we handle to make your journey as smooth as possible. Our team of travel experts will find the best flight itinerary for you at a competitive rate, thanks to our partnerships with top airlines.
Add our airfare package and you'll get:
Round-trip flight for your tour
Airport transfers at your destination
A great price locked in today
24/7 support from our dedicated service team
Options for arriving early, staying longer, or requesting an upgrade
Flexible rebooking options if your tour itinerary changes
Local weather
Las Vegas, United States of America
Weather averages
Today
High 107 °F
Low 76 °F
/
Sedona, United States of America
Weather averages
FAQ
Print FAQ
Passport, visa & entry requirements
Transportation & arrival information
Electricity & air conditioning
Purchasing excursions on tour