Italy & Greece
with Santorini & Athens extension
Duration:

11 or 15 days

Group size:

15-38

Reviews:

153
Take a look inside the cultures that shaped Western civilization.
As you make your way through iconic cities and legendary landscapes on a tour of Greece and Italy, you'll walk through the backdrops of ancient mythology and in the footsteps of emperors. Sit back and savor the good life in Sorrento and on the Isle of Capri, then watch as history comes to life in Rome and Athens.
Your tour package includes
9 nights in handpicked hotels
9 breakfasts
4 dinners with beer or wine
6 guided sightseeing tours
Expert Tour Director & local guides
Included highlights
Capri
Pompeii ruins
Roman Forum
Colosseum
Epidaurus & Mycenae
Get unbeatable value
With price matching, risk-free booking,
interest-free payments, and more
Read details
Reviews
Our reviews are authentic and unedited.
Ancient awesomeness
12/16/2019
by 5th time traveler 
Erica S.
This trip was a great way to learn about the ancient Romans and Greeks. Pompii was huge and the red light district was the most amusing. I wish we had a bit more time to explore there. Roman was very easy to explore by foot so we wondered off to see the Largo di Torre Argentina ruins. These ruins in...
25th Anniversary Celebration
11/06/2019
by 4th time traveler 
Patrick R.
My wife and I celebrated our 25th anniversary while touring Italy and Greece. In Gloria, we had the most amazing tour director who shepherded us through airports and ferry terminals and all over two countries. Her joy and enthusiasm for her job is infectious. We never stopped laughing. So many beaut...
2nd Tour with Go-ahead
10/28/2019
by 3rd time traveler 
Lisa R.
Great tour, got to see everything. Gloria went over and beyond to accommodate everyone for tours, restaurants and even our sniffles and coughs. Most hotels were walking distanced to all the sites. Planned Dinners were top notched. Had plenty of personal time to "travel" the streets on your own. ...
Great tour
10/28/2019
by 3rd time traveler 
Barbara K.
Most of the hotels were fabulous, the Russians are not friendly or nice in Santorini... a direct flight both ways would have been much better and was available. The tour director, Gloria was the BEST! such a wonderful and caring woman.
Outstanding experience!
10/28/2019
by 3rd time traveler 
James P.
My wife and I loved the tour. It was our first time on an overseas tour since my time in the US Army and we both enjoyed it immensely. Our tour guide, Gloria, was wonderful and energetic, and couldn't have been more knowledgeable or entertaining. She went above and beyond everyday, and it is obvious...
Hotels, flights & FAQ
Here's the nitty-gritty—where you'll stay, how you'll get there, and what to know about your destination before you go.
Hotels
We handpick every hotel to strike the balance of comfort, location, and local charm. Specific accommodations will vary based on your departure date, but these are frequently used hotels for this tour and we're confident you'll be satisfied.
Grand Hotel Cesare Augusto
This cozy hotel is located in the city center. Guests enjoy an outdoor pool, bar, and free Wi-Fi. Nearby, you'll find Piazza Tasso, Marameo Beach, and...
Hotel Dei Borgia
This modern hotel is located in the Via Nazionale neighborhood of Rome. Guests enjoy an on-site spa and a fitness center. Nearby, you'll find the Colo...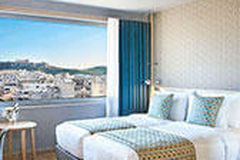 Wyndham Hotel
This modern hotel is located in the Karaiskaki Square neighborhood. Guests enjoy a restaurant, a rooftop bar, and an outdoor pool. Nearby, you'll find...
Amalia Hotel Nauplia
This modern hotel is located in the town entrance of Nafplion. Guests enjoy free WiFi, balconies, and air-conditioning. Nearby, you'll find Árgos, Tir...
Kalisti Hotel & Suites
This beautiful hotel is located in the heart of Fira, the capital of Santorini. Guests enjoy a pool, outdoor bar, and stylish accommodations. Nearby, ...
Flights
Round-trip flights are one more thing we handle to make your journey as smooth as possible. Our team of travel experts will find the best flight itinerary for you at a competitive rate, thanks to our partnerships with top airlines.
Add our airfare package and you'll get:
Round-trip flight for your tour
Airport transfers at your destination
A great price locked in today
24/7 support from our dedicated service team
Options for arriving early, staying longer, or requesting an upgrade
Flexible rebooking options if your tour itinerary changes
Local weather
Athens, Greece
Weather averages
Sorrento, Italy
Weather averages
Naples, Italy
Weather averages
Nafplio, Greece
Weather averages
Rome, Italy
Weather averages
FAQ
Print FAQ
Passport & visa requirements
Transportation & arrival information
Electricity & air conditioning
Purchasing excursions on tour
Dates & prices
Choose your dates to start a quote
Starts
Ends
Price
Availability
More tours you might love